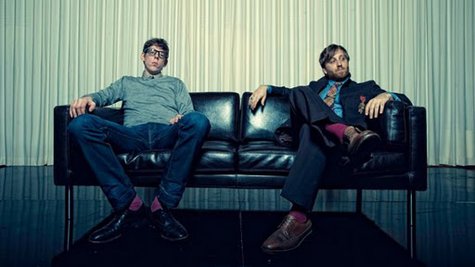 If you can't wait to check out The Black Keys new video for "Gold on the Ceiling" from their latest album, El Camino , you're in luck. MTV.com recently posted a preview of the video which will have its premiere on network on Monday. The 30-second clip features footage of the band performing the song during last year's El Camino album release concert at Webster Hall in New York City.
Speaking with MTV.com , drummer Patrick Carney said that New York City has always been a special place for the band to play. "The first time we played New York, it was September 2002, and it was a big deal for us," explained Carney. "So we drive eight-and-a-half hours from Akron to New York, open for an awful ska band in Brooklyn...and we got 50 bucks. And drove straight back to Akron. It wasn't even enough money for gas."
In addition to watching the video on Monday night at 7:54 p.m. ET on MTV, fans will also have the opportunity to check out the new video on MTV.com, VH1.com and AMTV on Tuesday. After the video's premiere, MTV.com will offer an exclusive 30-minute interview with the band, recorded before its recent concert in Germany.
Copyright 2012 ABC News Radio
Get More: Music News