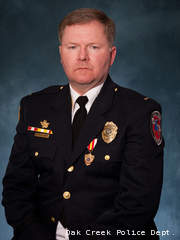 OAK CREEK, WI (WTAQ) - It's been three-and-a-half weeks since Oak Creek police lieutenant Brian Murphy was shot and wounded in the Sikh Temple massacre – and he's still not able to talk.
Federal investigators want to interview the 51-year-old Murphy. But Oak Creek Police Chief John Edwards says Murphy has some throat damage, and doctors want it to heal.
Murphy can still type, and the chief says the department has given him an electronic device to use. Plus, he can whisper a little bit.
Murphy was shot up to 9 times by Wade Michael Page at the Sikh Temple of Wisconsin on August 5th. The chief said Murphy's body armor managed to prevent 3 other bullets from wounding him.
Edwards said Murphy has a long way to go – and he'll most likely have permanent injuries. But the chief said, "From where he started, I truly believe he's here for a reason."
Three others were wounded and 6 worshippers were killed.
Edwards also said he believes that Page was motivated by hate – but he did not specifically have the Sikh Temple in mind when he planned his attack.
In the chief's words, "There was no specific group he was after, or disliked more than the other. He could have gone past a Korean church, a black Baptist church, a Muslim church. Anyone different, it's a personal hate. He just hated."