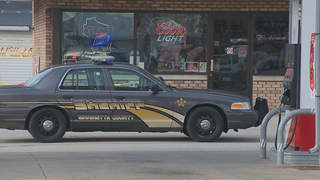 MARINETTE, WI (WTAQ) - The 55-year-old Crivitz man who allegedly shot and killed his ex-girlfriend while she was at work was formally charged with murder Tuesday.
According to the criminal complaint filed in Marinette County, Richard Heyer walked into the Citgo gas station on Main Street in Wausaukee on Sunday, pushed aside a customer buying lottery tickets, took aim with a Winchester rifle and shot 51-year-old Ann Schueller.
She was found dead behind the counter.
An employee and witness in the store says Schueller ducked and yelled "No Rick, don't do it" before Heyer fired.
The coroner says Schueller turned away from the gun and died from a single gunshot wound to the upper back that exited through her chest.
Heyer then pointed the weapon at the employee who says he thought he was next and ran out the door to call 911.
The customer in the store then says Heyer used the long gun to shoot himself in the chest and he then crawled outside.
Heyer is listed in critical but stable condition.
Schueller lived with Heyer at his home until the end of 2011, when Schueller moved out and got her own apartment.
The Sheriff's Department did not know say how long the two were in a relationship or had lived together.
Both Heyer and Schueller were married once before and both had domestic troubles in those relationships.
Sheriff Jerry Suave says there was no history of domestic abuse or calls with the couple.
The first domestic issue was on June 3rd, when Schueller requested and received domestic standby in order to remove some stuff at Heyer's place. However, no agreement could be made with Heyer to what Schueller owned and nothing was removed.
Schueller filed for a restraining injuction on June 8th, but a judge denied it because there was no evidence of domestic abuse or calls. In a hand written letter among court documentsm she says Heyer was verbally abusive and feared for her safety.
Schueller called for and received domestic standby on June 19th at a storage facility where she picked up property without incident.
Several days later, Schueller reported unwanted text messages from Heyer. Sheriff Suave says they were not threatening. He was warned that he could be ticketed for disorderly conduct if he did not stop.
On August 11th, Schueller again called for and received domestic standby to recover property at Heyer's home.
Schueller had filed paperwork in small claims court for compensation of property and Heyer was ordered to pay by Saturday, August 25th the day before Schueller was shot.
Sheriff Suave says hospital staff say Heyer could released in the near future into custody of the jail, but that is yet to be determined.
Charges of first degree intentional homicide with a dangerous weapon and felony possession of a firearm were filed Tuesday. Heyer was previously convicted of growing marijuana.