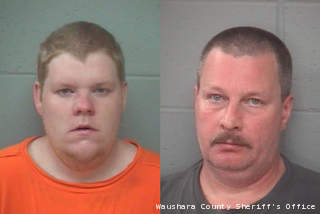 WAUSHARA COUNTY, WI (WTAQ) - Authorities are releasing more information about a large drug bust linked to the overdose death of a woman in Redgranite.
Randy Lindgren and John Gearnhardt are both accused of supplying the heroin that killed 21-year-old Amalia Henschel back in April.
On Thursday, FOX 11 reported that eight people are now facing heroin charges and the investigation could reach beyond Waushara County.
As of now, nearly a dozen people have been booked in the Waushara County jail as part of a more than four-month long investigation by the Sheriff's Department and the Wisconsin Department of Justice.
Officers executed search warrants at 5 Waushara County homes on June 13. Those records are sealed by court order due to the ongoing investigation.
FOX 11 reports that out of the 13 people listed in the June 27 booking report, 7 are mentioned in the criminal complaint filed this week. A total of 8 people are now charged with conspiracy to manufacture and deliver heroin.
Several people have told FOX 11 that Lindgren is a well known heroin dealer in Redgranite.
"I know a couple people that go there to him and it's pretty noticeable that everyone goes there to him for drugs," said Travis Yaroch, Redgranite resident.
FOX 11 spoke with Sheriff David Peterson about those concerns. Sheriff Peterson says he is aware of the comments made by Yaroch and others but declined to comment.
In the criminal complaint, Gearnhardt admitted to traveling to Milwaukee multiple times each week to buy up to 100 grams of heroin. Gearnhardt would bring the drugs back to Redgranite and distribute up to 10 grams at a time to several local dealers including Lindgren.
All of the suspects are awaiting their first court appearances on the charges.