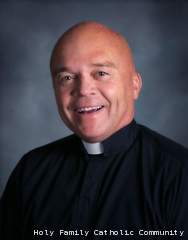 FOND DU LAC, WI (WTAQ) - Catholics in Fond du Lac are mourning the death of a priest in a bicycle accident.
Fr. Victor Capriolo of the Holy Family Catholic Community was killed around 7:55 p.m. Wednesday, just northeast of Fond du Lac in the town of Taycheedah.
The 67-year-old Capriolo was crossing the four-lane Highway 151 bypass on the Prairie Trail. Sheriff's deputies said he was hit by a motor vehicle driven by a 74-year-old Fond du Lac woman.
The priest died at the scene. The crash remains under investigation.
Capriolo's death was announced during a Mass this morning at Holy Family Church. He was currently a moderator for a team of 4 priests at four churches in the Holy Family Community in Fond du Lac.
The others are St. Peter's, St. Mary's, and Sacred Heart. Capriolo also served as the pastor-designate to Fond du Lac Saint Mary's Springs Academy.
A prayer service will begin at 5 p.m. Thursday at St. Peter's. A Mass in Spanish begins at 6 p.m. at Sacred Heart. All four Holy Family churches are open Thursday for mourners.
Before moving to Fond du Lac, Capriolo served at several Catholic churches in the Milwaukee area – and he served a pastoral assignment in Juneau Alaska for 3 years.