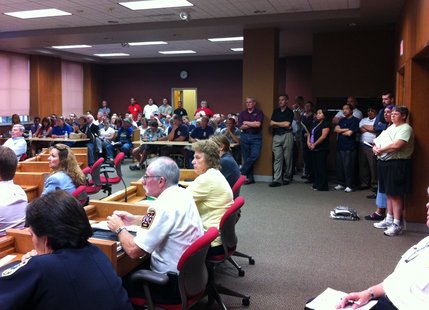 GREEN BAY, WI (WTAQ) - A stubborn Mayor Jim Schmitt finally cedes to the Green Bay city council's wishes in trying to find an alternative budget solution to cutting overtime hours for firefighters.
The Green Bay Fire Department will be reopening Fire Station One for the next 30 days as the city council sits down with Schmitt to save $238,000 in the city's budget.
A majority of the City Council members expressed concern for residents and fire protection with daily staffing levels being cut from 42 to 38. In order to achieve that, the downtown fire station and engine company shut down on Saturday.
However, last week the Personnel Committee approved a measure to not move forward with the plan, until after Tuesday's city council meeting. But the mayor went forward with implementing the plan.
The council fought with Schmitt for hours Tuesday night.
Schmitt believed he had the power to mandate the fire chief to find a solution through cutting overtime.
Schmitt along with city attorney Tony Wachewicz felt the council had no authority to intervene in department matters. Schmitt stressed that he is the executive who has to keep a balanced budget through the year.
Interim Chief Michael Nieft presented the reduction in overtime plan to the mayor after being directed to find savings in his department. Even Nieft himself felt staffing levels were needed at the 42 level to keep the city safe, but found the least impactful way to save money.
The city is trying to find ways to cut a projected $700,000 deficit by the end of the year. Schmitt said he didn't want to point fingers, but put the budget gap solely on the shoulders of the police union, who did not concede to increased pension and health benefit payments going into this year.
Schmitt assured the city council at the time the budget passed that would happen.
At the end of the meeting, Schmitt finally caved in on working with the council to find an alternative solution to filling the budget gap.
The council chambers was standing room only, as members of the fire fighters local union came out in support of keeping floor staffing at the current level of 42.