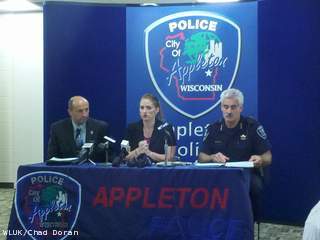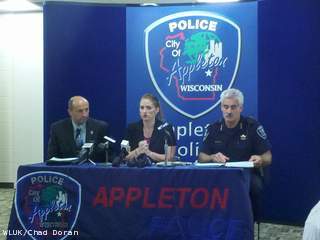 APPLETON, WI (WTAQ) - An investigation into an officer involved shooting in Appleton last Friday finds that the cop acted properly.
"I've concluded that no criminal actions will be pursued against the officer involved," says Outagamie County District Attorney Carrie Schneider at a press conference Thursday. "This was a justified shooting under the training techniques and the use of force as it was determined."
Sergeant Greg Pieper shot 61-year-old Keith Gabriel outside his Spring Street home Friday night. The Green Bay Police Department reviewed the case and says Peiper followed protocol.
Schneider says Gabriel had a loaded, Colt .45 handgun at the time.
"The hammer on this firearm was back, the lock was off, so it was ready to be fired," says Schneider. "There was nothing that Mr. Gabriel would've had to do other than squeeze the trigger."
Schneider, joined by Appleton Police Chief Peter Helein and Green Bay Police Captain Todd Thomas, expressed how tragic this event was in such a quiet neighborhood. But reiterated that the actions by Pieper, a 14-year veteran of the force, was justified.
When recounting Sgt. Pieper's confrontation with Gabriel that night about the fireworks.
"The only response that came from Mr. Gabriel was that he became more and more agitated and began yelling, 'Shoot me, shoot me,'" said Schneider.
Gabriel had threatened to harm police and city workers who came onto his property in the past. When police searched his home six other handguns and 15 various other weapons were found along with a live mortar shell that had to be diffused by the bomb squad.
Pieper, meantime, is still on paid administrative leave and is doing well in dealing with the shooting according to Helein. Pieper will return to duty soon.
This is the third officer-involved shooting in Appleton in the last five years. The increase in police having to use deadly force worries Helein.
"It absolutely concerns me and we're trying to figure out why this is occuring, not only in the incidents that have been identified but also where we've seen violence in our community and really try and get to the heart of the problem," says Helein.
Before another tragic incident like this occurs again. Helein says the thoughts and prayers of the department are with Pieper and Gabriel's family.