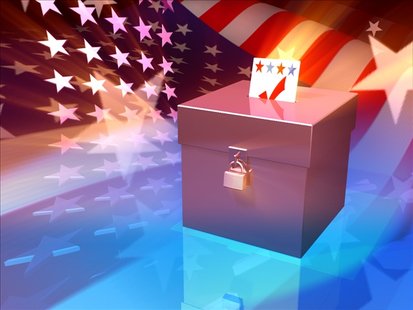 UNDATED (WSAU) Wisconsin voters will decide today who will run against Democrat Tammy Baldwin for the U-S Senate seat that's being vacated by Herb Kohl. State officials say about one-of-every-five eligible voters will turn out to choose one of four Republican candidates – Tommy Thompson, Mark Neumann, Jeff Fitzgerald, or Eric Hovde.
A lot of things have kept the Senate primary off the front pages of newspapers – including the governor's recall effort, the Olympics, the choice of Paul Ryan as Mitt Romney's running mate, and even the Sikh Temple shootings in Oak Creek when the Senate campaign could have hit a fever pitch last week.
Still, Marquette pollster Charles Franklin says the Wisconsin race is important nationally – because it could help determine whether Republicans have a chance to take control of the U-S Senate in November. Franklin also said a lower turnout could mean a tighter result tonight. The latest Marquette poll gave former Governor Thompson an eight-point lead over hedge fund manager Hovde. And 21-percent of likely voters were undecided as of last week. Other recent polls showed a dead heat between Thompson, Hovde, and former Congressman Neumann.
Also today voters will decide a hotly-contested U-S House primary for the seat Baldwin's giving up. And numerous state legislative and county primaries are on today's ballot. All polls close at 8pm tonight.