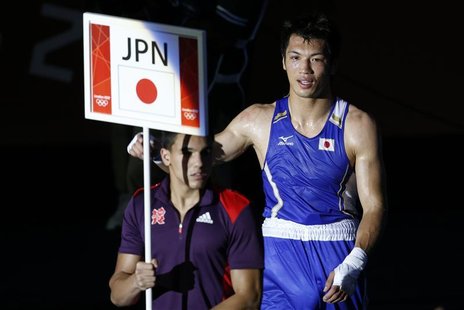 LONDON (Reuters) - Japan's Ryota Murata denied Brazil a first Olympic boxing gold medal on Saturday when he fought smart to win his country's first in the ring for 48 years by beating middleweight Esquiva Falcao Florentino.
Falcao, whose brother Yamaguchi won bronze in the light-heavyweights, appeared to serve notice to the rest of the middleweight division when he demolished Britain's Anthony Ogogo in the semi-final.
However Murata, a silver medalist at last year's world amateur championships, gave the aggressive Falcao a lesson in how to score points, defending expertly and catching the Brazilian each time he came in close.
The 26-year-old Japanese countered superbly in the first round to open up a two point lead and although Falcao cut that back to a single point after the second round thanks to a couple of big lefts, Murata refused to panic.
When Falcao received a warning in the final round his fate was sealed and the Brazilian, whose first name Esquiva means "dodge" in English, nodded in agreement as the judges gave the bout to Murata by just a point.
Japan's last gold in the boxing ring was won by Takao Sakurai at his home 1964 Games in Tokyo while Brazil's only previous boxing medal before the three won in London came in the 1968 Games.
Losing semi-finalists Ogogo and Abbos Atoev of Uzbekistan took bronze.
(Reporting by Patrick Johnston and Padraic Halpin; Editing by Alison Williams)