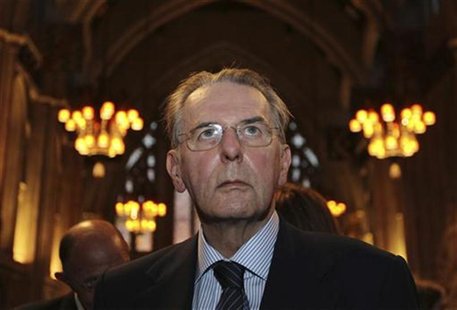 By Karolos Grohmann
LONDON (Reuters) - International Olympic Committee (IOC) President Jacques Rogge said on Wednesday he would resist pressure from cities bidding to stage the Youth Olympics to turn it into a bigger and more expensive competition.
The Youth Games, an idea first conceived by Rogge, were first staged in 2010 in Singapore in an effort by the IOC to attract younger athletes and increase awareness among younger viewers.
Some 3,500 athletes attended the first summer edition and Rogge said there had since been pressure from host cities for it to grow. China's Nanjing will stage the 2014 Youth Games while eight cities are bidding for the 2018 competition.
"This is something we have to be very vigilant (about)," Rogge told a small group of reporters. "We have limits on cities, the Games cannot be too expensive."
With athletes aged between 15 and 18 competing in all 28 Olympic sports, the Youth Games are seen both as a stepping stone towards the Olympics as well as a testing ground for more innovation that could be used in future Games.
Events such as basketball with three players in each team, mixed male and female racing events, and hockey sevens have been introduced.
Doping tests and training sessions for athletes to deal with the media as well as cultural programmes are also on the schedule.
"It is true there is pressure to do more, to do better. But I am known in the IOC as Mr. No," said Rogge.
Glasgow, bidding for the 2018 edition, has said its event would cost about 200 million pounds ($313 million) with bid organizers seeing it compete to become the third largest sports event in the world, about the size of the Commonwealth Games.
The Singapore Games saw 150 athletes graduate to the London Olympics with several of them winning medals.
"The Youth Games really helped me," said South African swimmer Chad le Clos who beat record Olympian Michael Phelps to win a gold medal in the 200 meter butterfly event.
The South African also won silver in the 100m butterfly.
"Singapore was a huge stepping stone for me," he said, flanked by Rogge and Australian canoe slalom silver medalist Jessica Fox, also a Youth Games graduate.
"It was my first international meeting and if I came to London (without the Youth Games experience) I would not nearly have done that well," said le Clos, who won five medals in Singapore including one gold. ($1 = 0.6386 British pounds)
(Reporting by Karolos Grohmann)