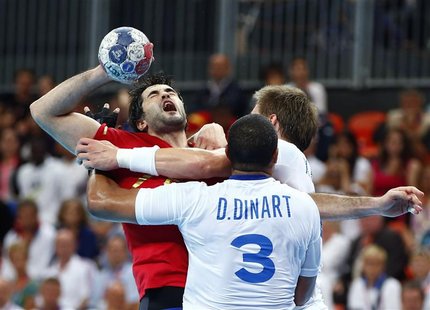 By Tom Pilcher
LONDON (Reuters) - Holders France beat Spain with a last-gasp goal for a 23-22 victory as Hungary pipped Iceland with a thrilling 34-33 extra-time win in the men's Olympic handball quarter-finals on Wednesday.
Spain goalkeeper Arpad Sterbik Capar had been in great form in the first half as the reigning champions went 11 minutes without a goal, but he could do nothing about William Accambray's brilliant winner on the final buzzer.
Sterbik Capar kept out French talisman Nikola Karabatic's desperate lunging shot in the last second but to his horror the rebound flew straight to Accambray, who in the blink of an eye grabbed the ball, switched it to his right hand, and let rip.
"The ball did not want to let go of me. It was too sticky," he told Reuters, joking the ball was covered in too much of the glue-like resin that is used to help players keep hold of it.
Coach Claude Onesta only informed Accambray, who top scored with seven goals, that he would make his tournament debut against the 2008 Beijing bronze medalists on Tuesday but knew the 24-year-old would handle the pressure.
"I knew that he could bring his freshness and explosiveness to the team," said Onesta, whose team looked below par throughout and only registered two goals in the opening 17 minutes.
France will next face either outsiders Tunisia or twice Olympic champions Croatia, unbeaten so far at the London Games. Hungary await either European champions Denmark or three-times runners-up Sweden.
Earlier, Hungarian goalkeeper Nandor Fazekas saved a Snorri Steinn Gudjonsson penalty with seconds left of normal time and then Mate Lekai leveled the scores at 27-27 with two seconds remaining.
The giant Laszlo Nagy top-scored with nine goals to give Hungary a chance of a first men's Olympic handball medal after four fourth-placed finishes in seven previous Games.
HUNGARIAN LUCK
Standing at 2.09 meters, Nagy's power and ferocious left-arm throws proved the key to unlocking Iceland's robust defense in extra-time, scoring five of his team's seven goals.
"Luck was with us, we have to realize that. But we have a good goalkeeper capable of stopping penalties which he did," said the 31-year-old Barcelona captain.
"I think the team was complete today, every player brought a lot to the victory. Now it's time to rest," he said, looking exhausted.
Iceland's outgoing coach Gudmundur Gudmundsson, hoping to lead the tiny volcanic nation to another Olympic medal after he helped secure the country's first silver since the 1956 Games four years ago in Beijing, refused to blame Gudjonsson.
"We're all upset. You have to look at the whole game. This is the way sport is, you do or die," he said.
"We dearly wanted to repeat the silver medal of four years ago. I'll now let some other people talk about leading the team onwards," he said, smiling humbly after eight years in charge.
"I've had a fantastic time."
(Editing by Michael Holden, Matt Falloon and Patrick Johnston)