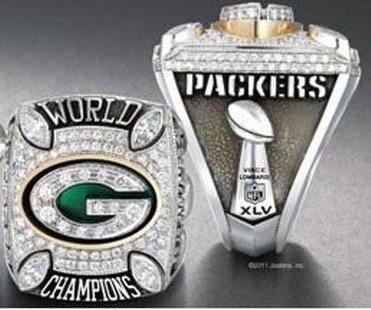 BALTIMORE, MD (WTAQ) - A Packers defensive lineman who never made it off the 2010 team's practice squad sold his Super Bowl XLV ring $45,000 at auction.
The championship ring was sold in Baltimore at the National Sports Collection Convention through Heritage Auctions Thursday night. With the buyers premium on top of the final gavel, the ring sold for $53,775.
Super Bowl rings in general are a rare find on the auction block, because players hold on to them for life.
"While I can't confirm that the buyer was or was not a Packers fan, I would put some good money on that it was someone who really loves the Pack" said Hertiage Auction Public Relations Director Noah Fleisher.
The ring belonged to Jay Ross, who was let go and is now a member of the Buffalo Bills.
Wilmington North Carolina NBC affiliate WECT reports Ross said he got rid of the ring because he never made it off the practice squad and can use the money for his charities in Wilmington.
The Heritage Auction website page for the ring got substantial hits, with over 11,800 views. Fleisher said "That is well, well more than a normal auction lot would get weeks before a sale."
Online bidding was cut off Wednesday, before the ring went up for auction Thursday night.