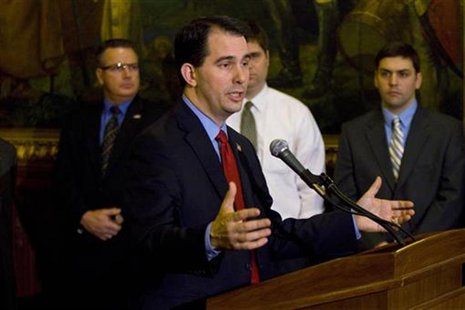 MADISON, WI (WTAQ) - Governor Scott Walker's campaign said late Monday afternoon that it raised over $13 million since January for his recall election – bringing the total to $25 million since the start of last year.
That breaks the record for a single candidate for a state office, set in 2010 by Walker in his first full campaign for governor.
Walker has been traveling the country raising funds to try and keep his job. He was allowed to raise unlimited individual contributions until the recall vote was scheduled.
Walker's camp said almost 126,000 people have given money to the governor's bid. Four Democrats will square off in a primary next Tuesday for the right to face Walker in the general election on June 5th.
Walker does have a primary opponent. Capitol protestor Arthur Kohl-Riggs says he's running to encourage Republican voters to stay in their own party and choose Walker next Tuesday – and not cross over to the Democratic primary to try and give the governor a weaker opponent.
Kohl-Riggs filed a campaign report Monday, stating he has raised $2,000 and has almost $1,600 in the bank.