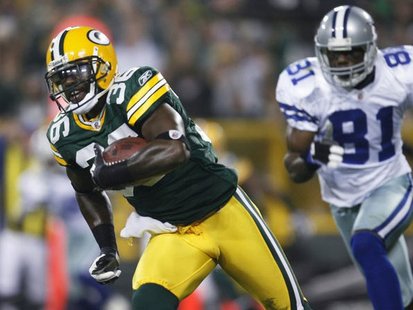 GREEN BAY, WI (WTAQ) - The Green Bay Packers have released Pro Bowl safety Nick Collins, so he won't risk permanent injury from the ruptured neck disc he suffered last fall.
Collins' co-agents, Alan Herman and Dave Butz, confirmed the release to newspapers in Milwaukee and Green Bay.
Collins has not said whether he planned to return to football. Packers' coach Mike McCarthy, general manager Ted Thompson, and Collins' own agent had earlier advised him against playing in the NFL again. But they won't make that call, since Collins will become a free agent and any team could sign him.
"From the beginning of this process, we have taken our time and sought numerous medical opinions while maintaining consistent dialogue with Nick," Packers GM Ted Thompson said in a statement. "In the end, we were not comfortable clearing him to play again. As with all of our players, Nick is a member of our family and we thought of him that way as we came to this conclusion.
"Nick is a part of our core, and this is a very difficult day for all Packers. Making this kind of decision is never easy, especially when it involves someone like Nick Collins. He has meant so much to the community, his teammates and the organization. He is a good man and will always be part of the Packers family."
The Journal Sentinel said the three-time Pro Bowler was recently evaluated by 5 neurosurgeons to determine if it's safe for him to play again. The 29-year-old Collins had single-level cervical fusion surgery soon after Carolina running back Jonathan Stewart tried to hurdle over Collins in Week 2 last year. The procedure included the attachment of a titanium plate which holds two vertebrae together.
Collins was due to make just over $4 million in salary and bonuses this year. The Milwaukee paper said the move will take about $3 million off the salary cap – thus giving the Packers around $12 million of cap room.
Collins, who was selected by the Packers with the first of two second-round selections (No. 51 overall) in the 2005 NFL Draft, went on to appear in 95 games (all starts) at free safety during his seven-year career in Green Bay. During that time, he amassed 498 tackles (388 solo), 21 interceptions, including four returned for touchdowns, 83 passes defensed, five forced fumbles and two fumble recoveries.
From 2008-10, Collins ranked second among all NFL players with 439 interception return yards and was tied for second among safeties with 17 INTs over that span. In 2008, he set a franchise record with 295 INT return yards and became the first NFL safety since 1986 to return three INTs for TDs in a season. In 2010, Collins became the first Packers safety since LeRoy Butler to earn a bid to three consecutive Pro Bowls, and capped his season with a 37-yard INT return for a touchdown in Super Bowl XLV.