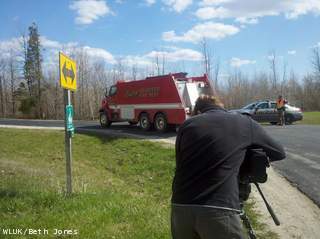 TOWN OF LIBERTY, WI (WTAQ) - Fire crews say a grass fire that burned over 150 acres in Manitowoc County is now under control.
The blaze sparked around 1 p.m. Monday on Rusch Road in the Town of Liberty, near Liermann's Sawmill.
Fire officials say the damage could've been much worse.
"We were lucky enough that it didn't get too far into the woods, but when it did, it's really hard to get out," Valders Fire Chief Dan Esser told FOX 11. "You get up somewhere where you have cottages inside the woods, we are lucky enough we were able to cover the houses that were here."
Fire officials say an unattended fire at the sawmill sparked the blaze. They say the mill was burning scraps last week and workers thought their fire was out.
Authorities say the high winds reignited it, and the extremely dry conditions helped the fire spread.
"I was the first officer on the scene, the call came in around 1p.m. and I was three miles out and I could see smoke already," said Valders 1st Assistant Chief Keith Petersen. "Behind the sawmill is all marsh grass, so an ember went into the grass and started the whole scenario on fire."
17 different agencies were called to the scene. Officials say two firefighters were taken to the hospital for an evaluation; however they don't believe they sustained any serious injuries.
The DNR says most of the state is at a "very high" risk of wildfires because of the lack of rain.