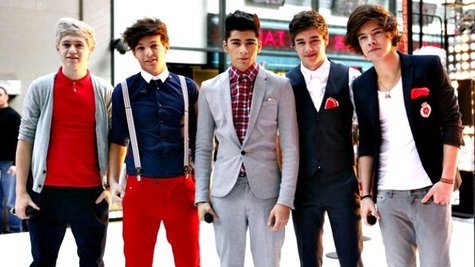 One Direction has something special for both their older and their younger fans on Saturday. First, the group will guest on Nickelodeon's iCarly . Then, they'll appear on Saturday Night Live.
On the iCarly episode, titled "iGo One Direction," Carly is thrilled when the Brit boy band agrees to appear on her webcam show. Things go wrong, though, when group member Harry Styles gets sick. When Carly discovers Harry faked his illness for attention, she and the gang get back at them by pretending that Gibby is their new member. Of course, One Direction, who have a development deal with Nickelodeon themselves, will perform "What Makes You Beautiful."
Then, later that night, the guys will appear on SNL as the musical guests; Sofia Vergara is the host. We assume they'll perform "What Makes You Beautiful," as well as another number, though we'll have to wait and see if they'll participate in sketches. Fellow teen dreams the Jonas Brothers and Justin Bieber have all done SNL digital shorts or sketches in the past, so Harry, Niall, Liam, Louis and Zayne may follow suit.
Copyright 2012 ABC News Radio