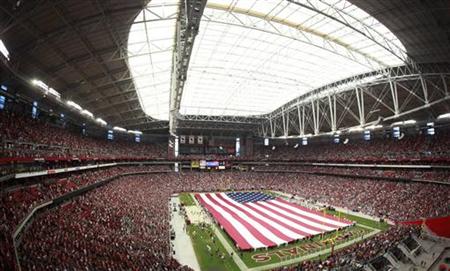 By Simon Evans
MIAMI (Reuters) - The mantra after the first game in most professional sports leagues is that the season is long, but in the National Football League (NFL) one week is enough to mount up the pressure on teams who stumble out of the gate.
While a 16-game regular season offers plenty of time for a recovery, an 0-2 start can ratchet up levels of fan discontent and media scrutiny to uncomfortable levels -- and there are some surprisingly top teams and big-name quarterbacks among those in need of a win in Week Two.
The Super Bowl runner-up Pittsburgh Steelers were crushed by divisional rivals the Baltimore Ravens in their opening game with quarterback Ben Roethlisberger having a shaky start with three interceptions and two fumbles.
The Seattle Seahawks present a very different proposition for Mike Tomlin's Steelers but one they cannot take lightly because falling two games behind the Ravens and the Cincinnati Bengals would make things very tricky in the AFC North.
Roethlisberger said in the immediate aftermath of Sunday's embarrassment that he rammed into his team mates a reminder that there was a long way to go.
"I grabbed the offense and told the guys 'The season isn't won or lost today. The division isn't won or lost today', we just have to regroup. I think this was just a bump in the road," said Roethlisberger.
An 0-2 start is a recoverable situation but it is hard not to imagine the criticism that Dallas Cowboys quarterback Tony Romo would face Sunday if he struggles at San Francisco.
Romo threw for 342 yards and two touchdowns against the New York Jets but Dallas lost after he fumbled at the Jets' two yard line and threw an interception in the final minute that allowed the game-winning field goal for New York.
"You have to get ready for the next one and we have to put that behind us," said Romo. "I have to come out and play my best game this week and make sure that what happened last week doesn't happen again. And I'll do that."
The Atlanta Falcons were tipped by many to reach the Super Bowl this season but they started off in disappointing fashion with a loss at Chicago. A home loss to the Philadelphia Eagles on Sunday would spark questions about whether they have dealt with the weaknesses that were exposed in their playoff loss to the Green Bay Packers last season.
The New York Giants' defeat to the Washington Redskins was not the end of the world, but if they follow up with a loss at home to the St. Louis Rams on Monday, the knives could come out in the Big Apple.
The Miami Dolphins have to do something special this season to get out of an AFC East that includes the Jets, New England Patriots and a reborn Buffalo Bills -- and after Tom Brady took their defense apart on Monday, the second home game against the Houston Texans is one they desperately need to win.
Early signs are that the fan base are tiring of a team that has lost 10 of their last 11 home games, and while the Dolphins proved in 2008 that you can recover from 0-2 and reach the postseason, there will be precious little optimism if they fall to the Texans this weekend.
"There's two places you go in this league every week, you go to heaven or you go to hell," said Miami head coach Tony Sparano. "On Monday night we went to hell. But we're going to get to heaven."
(Editing by Frank Pingue)