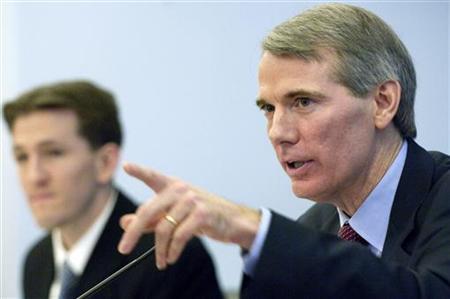 By Doug Palmer
WASHINGTON (Reuters) - Nearly a dozen Republican senators on Wednesday urged President Barack Obama to quickly send Congress three long-delayed trade deals that they said would help put Americans back to work.
"If the president really cares about jobs, he will send up the agreements immediately," Senator Rob Portman told reporters, referring to deals with South Korea, Panama and Colombia signed more than four years ago.
With Obama set to outline his ideas for reducing high U.S. unemployment in a speech on Thursday night, Senator Mike Johanns urged the president to announce that he will send the pacts to Congress this week.
The senators said they were frustrated that Obama has repeatedly called on lawmakers to approve the trade pacts but still has not formally submitted them to Congress.
"We can't pass them if you don't send them up," Senator Roy Blunt said, noting the trade deals have been on Obama's desk since he became president in January 2009.
The administration estimates the agreements will boost U.S. exports by about $13 billion, helping to create or sustain about 70,000 jobs.
However, it has delayed sending the agreements to Congress because of its lingering concerns over renewal of an expanded Trade Adjustment Assistance program to help retrain workers who have lost their jobs because of foreign competition.
At a separate news conference, Senate Majority Leader Harry Reid said he would not schedule action on the trade bills unless the House passes the TAA program first.
"Unless (TAA) passes the House, we're not going to take up any of the trade bills over here," Reid told reporters.
House Speaker John Boehner "has said he will get this done, but I think we have to make sure that something doesn't go awry," Reid said, adding he planned to discuss the issue on Wednesday evening with White House Chief of Staff Bill Daley.
"MAKING HEADWAY"
The White House and Republicans have locked horns repeatedly this year over the longstanding program.
Democrats consider TAA a key part of the U.S. social safety net. But many Republicans, with a strong push from the party's anti-spending Tea Party wing, question the need for the program and its effectiveness.
The program was expanded in 2009 to cover service industry workers and provide more generous benefits. Those reforms have expired, but the core program continues.
Earlier this year, House Ways and Means Committee Chairman Dave Camp, a Republican, struck a deal with the White House and Senate Finance Committee Chairman Max Baucus, a Democrat, on a slimmed down version of TAA that includes many of the 2009 reforms.
The White House wants the compromise TAA bill approved along with the free trade pacts, but angered Republicans when it threatened to include the legislation in the implementing bill for South Korean agreement.
Shortly before the August congressional recess, Reid and Senate Republican Leader Mitch McConnell issued a joint statement aimed at reassuring the White House that Republicans would not block action on TAA in the Senate.
But an administration official on Wednesday, speaking on condition of anonymity, said the White House still needed "to nail down the specifics on a bipartisan, bicameral path" to approve the trade deals and TAA.
"We hope to see the same progress in the House that we saw in the Senate before recess. We're not there yet, but we're making headway," the administration official said.
A spokesman for Boehner said Obama was to blame for the continued inaction on the pacts.
"We have made abundantly clear publicly and privately that the House is prepared to vote on all three trade agreements and TAA extension in tandem with each other. The only thing holding us up is the fact those trade bills are still sitting on the President's desk," Boehner's spokesman said.
In addition, later on Wednesday, the House is expected to pass a bill to boost trade with developing countries that many inside and outside Congress see as the first step on the path to passing the trade deals.
(Editing by Eric Walsh)