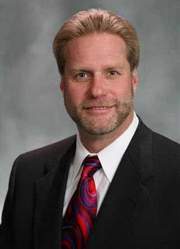 SHEBOYGAN, WI (WTAQ) - The Sheboygan City Council will be asked Tuesday night to consider keeping embattled Mayor Bob Ryan in office – but to have somebody else run the city.
Aldermen Cory Roeseler and Don Hammond have proposed resolutions to have the Council drop its efforts to remove Ryan, and to hire an administrator to handle the city's day to day business.
Ryan is the subject of both a formal removal process and a recall effort, after 3 major alcohol-related episodes since being elected mayor in 2009.
The council had previously considered hiring an administrator or a city manager, but the idea failed to get enough support last fall.
The new measure would promote Sheboygan finance director James Amodeo to the new administrator's post.
Ryan would stay in office. But he would have undergo random alcohol testing – and he would have to keep his earlier promise to resign if he's caught drinking again.
Ryan resolved last week to remain in office. And a council meeting was postponed in which an attorney would have been hired to represent the city in the effort to remove the mayor.
Hammond says the Council has gone far enough, and he says Ryan has gotten the point.