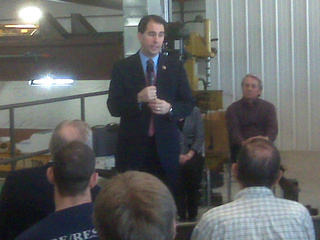 MADISON, WI (WTAQ) - The Wisconsin Senate's Republican leader said it might have been illegal for United Wisconsin to get people to commit to signing recall petitions against Governor Scott Walker.
The group says over 200,000 people have signed pledges – and Scott Fitzgerald says it amounts to gathering recall signatures outside of the 60-day time period required by state law.
The state Government Accountability Board would be the one to decide if the commitment pledges were legal or not. Board attorney Mike Haas said it could be part of the process of evaluating the petition signatures themselves.
State Democrats said they would join United Wisconsin in organizing the attempt to recall the Republican Walker.
The Milwaukee Journal Sentinel said many Democrats wanted a recall election at the same time as the November presidential vote in 2012. But the party agreed to join with United Wisconsin and other grassroots organizations, to give the effort a greater chance to succeed.
A petition drive begins November 15th, but the election dates hinge on the time it takes for the Accountability Board to check the validity of the signatures – as well as any legal challenges.
United Wisconsin board member Ryan Lawler said the group wants the election as soon as possible to take advantage of momentum from the summer recall elections, and the ongoing John Doe probe into alleged illegal campaigning by Walker's former Milwaukee County executive staff.
The GOP accuses the Democrats of trying to create political chaos when struggling families need help. But Lawler said it was Walker who created the chaos, by pushing through the law which virtually ends collective bargaining for most public unions.