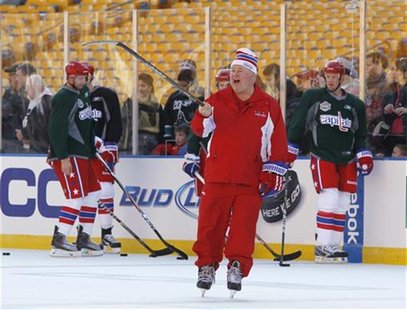 By Steve Ginsburg
WASHINGTON (Reuters) - The slumping Washington Capitals moved to resuscitate their once-promising season on Monday by firing head coach Bruce Boudreau and replacing him with former team captain Dale Hunter.
Despite the presence of two-time most valuable player Alex Ovechkin and a talented group of young players, the Capitals have lost six of their last eight games and stumbled into eighth place in the 15-team Eastern Conference.
A 5-1 whipping on Saturday by the Buffalo Sabres, a team missing nine regular players, was the final straw for General Manager George McPhee.
"This wasn't a slump," he told reporters at the team's training facility. "You can ride out slumps. This was simply a case of the players were no longer responding to Bruce.
"When you see that, as much as you don't want to make a change, you have to make a change."
Boudreau posted a record of 201-88-40 in four-plus seasons behind the Washington bench, recently becoming the fastest National Hockey League coach to record 200 regular season victories.
But the team consistently folded in the playoffs, the Capitals under Boudreau winning just two series over four seasons while compiling a 17-20 record.
Washington opened this season with seven straight wins but slipped to 12-9-1 overall following the loss at Buffalo while clinging to the final playoff spot in the East.
"The issue was we weren't playing very well," a subdued McPhee said. "Bruce came in here and emptied the tank. He gave it everything he could and did a really good job.
"But the tank was empty. And when that happens, you get a new coach where the tank is full and see if it makes a difference."
The hard-nosed, 51-year-old Hunter, one of four players to have his number retired by the Capitals, appeared in 872 games from 1987 to 1999 and served as team captain from 1994 to 1999.
For the past 11 seasons, Hunter has coached of the Ontario Hockey League's London Knights. He will make his debut behind the bench Tuesday when the Capitals host the St. Louis Blues at sold-out Verizon Center.
"Dale was an intelligent player," McPhee said. "He had talent. And he was tough. He was downright mean sometimes. We probably won't see a player like that again for a while.
"The best thing you could ever say about Dale Hunter was whether the game was a home or away, or whether he was injured or healthy, whether we were winning or losing, that guy played the same way every night. And it was hard."
McPhee refused to place any blame for the season's problems on Ovechkin, who has an uncharacteristically low eight goals in 22 games.
"It has everything to do with this team not playing well. The goalies aren't stopping pucks, the defense aren't getting the pucks out and the forwards aren't checking and scoring enough," said McPhee.
"It's our whole team. We have a lot of players that aren't playing the way they're capable of playing."
(Editing by Frank Pingue)