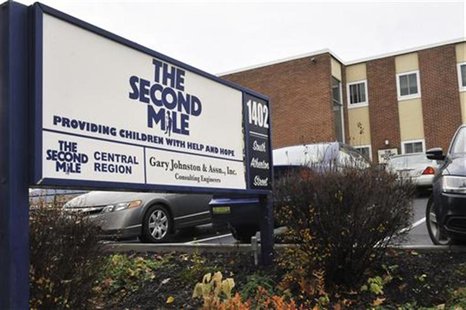 By Ian Simpson
STATE COLLEGE, Pa (Reuters) - The charity founded by Jerry Sandusky, the former Penn State football coach charged in an explosive child sex abuse scandal, is weighing options for its future, including shutting down, the non-profit group said.
The Second Mile charity, which works with at-risk youths, is talking with donors and supporters to determine what support it can expect, it said in a statement.
"Because the focus of our organization is on the children, The Second Mile is currently exploring three options: (1) restructuring the organization and keeping its programs going, even if it means doing so at a reduced level of service and funding, (2) maintaining the programs by transferring them to other organizations or (3) not continuing," the statement said.
"Our primary goal is to sustain the programs for the sake of the kids."
Sandusky, 67, faces 40 grand jury charges of sexually abusing eight young boys over 15 years. He retired as Penn State defensive coordinator in 1999 and is alleged to have met the boys through The Second Mile, which he started in 1977.
A source close to the situation said on Sunday that The Second Mile was focused on carrying out its own investigation into the charges.
The charity, which has about 30 staff members, also is talking with potential partners about taking over some of the programs, the source said. The source declined to disclose those involved in the talks.
SOMETHING TO SALVAGE
New Chief Executive David Woodle "is trying to make sure that something can be salvaged from this charity, because there are a lot of good programs that people depend on," the source said.
Woodle took over from Jack Raykovitz, who resigned on November 13. About a quarter of the 32-member board has quit since the charges against Sandusky were announced on November 5, the source said.
The grand jury charges, including allegations that Sandusky raped a young boy in a football facility shower in 2002, have shredded Penn State's reputation and administration.
Joe Paterno, the winningest coach ever in major college football, and President Graham Spanier were fired by trustees on November 9 in the wake of allegations against Sandusky.
The athletic director and a senior university finance official stepped down after being charged with failure to report an incident and perjury for giving false testimony to the grand jury.
Sandusky said in an interview last week on NBC television that he was innocent. The Second Mile has said Sandusky was separated from activities involving children in 2008, when he told the group about the grand jury investigation.
Penn State faces a battery of investigations, including one by the U.S. Department of Education. The National Collegiate Athletic Association and the board of trustees also have announced probes.
(Editing by David Bailey)