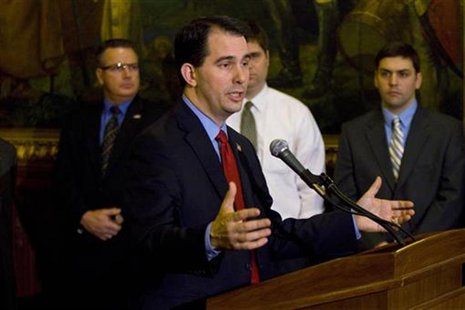 By John Rondy
MILWAUKEE (Reuters) - Opponents of Wisconsin Republican Governor Scott Walker, who led a controversial move to limit bargaining rights of state employees, will launch a recall effort against him with an online filing on Tuesday, organizers said.
United Wisconsin, one of several groups leading recall efforts against Walker, will make the filing with the state Government Accountability Board at midnight followed by a paper filing with election officials in the morning, said Alanis Strauch, a regional volunteer coordinator.
Recall efforts against three Republican state senators will also be launched, a spokesman for the state Democratic party said, along with a recall drive against Lieutenant Governor Rebecca Kleefisch.
Walker, newly elected in 2010, led the drive against public unions, saying deficit-ridden state finances could not support the union wages and benefits long-term. The Wisconsin battle threw a national spotlight on reform moves by Republicans who took control of state legislatures after the 2010 mid-terms.
Organizers seeking to unseat Walker, a Republican, must then gather 540,208 signatures within 60 days to force a recall election. Some 200,000 people have pledged online to sign the petition to recall Walker, Mike Tate, chair of the state Democratic Party, told WISN-TV in Milwaukee on Monday.
The fresh moves follow nine summer recall elections sparked by the contentious passage of the collective bargaining law. Two Republican state senators lost their seats in the recalls.
The state senators being targeted on Tuesday for recall are Pam Galloway of Wausau, Terry Moulton of Chippewa Falls, and Van Wanggaard of Racine.
As many as 17 state senators, along with Walker and Kleefisch, could be eligible to face recall battles next summer if activists succeed in efforts to force such votes, according to the Wisconsin accountability board.
The political balance of the state Senate is at stake with 11 Republicans and 6 Democrats not already up for re-election eligible for recall efforts under state rules.
Lawmakers who have been in office one year and who have not already faced such a vote are eligible for recall in Wisconsin.
Tate said that potentially more than $100 million could be spent on both sides over the Walker recall effort, with money coming in from wealthy individuals outside the state, including conservative businessmen like the Koch brothers.
Senate Majority Leader Scott Fitzgerald said in an interview on WISN-TV that if Democrats receive more than $30 million from outside the state for the recall, it will signal that the recall drive is about preserving Wisconsin as a key swing state for the re-election of Barack Obama.
Fitzgerald told WISN-TV that as governor, Walker has a bully pulpit to explain to the public what happened with the collective bargaining act. He said that since the bill was passed, the state is on more solid financial footing.
Fitzgerald also said he thinks the recall process is too broad, making it too easy to recall legislators.
"It makes it much more difficult to develop good public policy, and it changes the dynamics of the chamber," he said.
Tate said that possible Democrat candidates that could run against Walker include Milwaukee Mayor Tom Barrett, who lost the governor's race to Walker last November; former congressman David Obey; former Dane County Executive Kathleen Falk; and State Sen. Jon Erpenbach, who was part of the group of Democrat legislators to leave the state earlier this year to deny the senate a quorum for a vote on the collective bargaining law.
(Writing and reporting by John Rondy; editing by Mary Wisniewski and Peter Bohan)