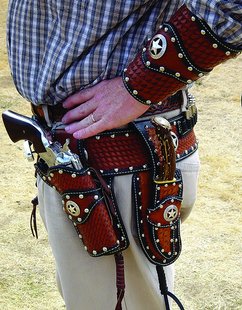 MADISON, WI (WTAQ) - Wisconsin's attorney general was the first to receive a state permit to carry a concealed weapon – and by late Tuesday afternoon, 85 others had received theirs.
It was the first day that law-abiding residents could carry hidden weapons to protect themselves.
Republican Attorney General J.B. Van Hollen said he deserved to get Permit Number 1, after all the work he put into the new law. Another reason he went first was, "If things went awry, who am I going to complain to?"
Almost 150 applications had been received at the State Justice Department office by late in the afternoon – and almost 125 had been approved after the required background checks. By 9 a.m. Tuesday, over 80,000 people downloaded permit application forms from the Justice Department's Web site.
And by noon, about 800,000 people had logged onto the Web site – 10 times the activity of a normal day.
Deputy law enforcement administrator Dave Zibolski expects up to 200,000 applicants in the first few months, based on activity in the 48 other states which allow concealed weapons.
Permit applicants must be at least 21 and have four hours of approved training for their weapons.
At the State Capitol, a few protestors carried signs Tuesday against the new law. One read, "Don't shoot."