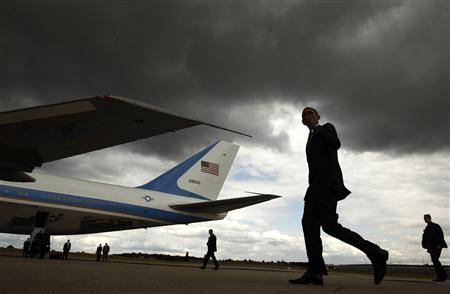 WARSAW (Reuters) - President Barack Obama and Polish Prime Minister Donald Tusk will announce a deal on Saturday to set up a U.S. air detachment to serve warplanes that will rotate through Poland, the White House said on Friday.
Earlier, Obama began a two-day visit to Warsaw that will include bilateral talks on energy and military cooperation as well as a meeting with nearly 20 heads of state from central and eastern Europe.
Poland, a NATO ally since 1999, has long been pressing for a permanent U.S. military presence on its soil as a clear security guarantee, especially in the face of a more assertive Russia.
"We are going to announce tomorrow the conclusion of the agreement to establish an aviation detachment in Poland that will allow for our two air forces to cooperate in training the Poles to utilize the American aircraft that they purchased -- F-16s and C-130s," Liz Sherwood-Randall, a senior White House national security official, said on board Air Force One.
"What we will be doing is rotating trainers and aircraft to Poland so that they can become more inter-operable with NATO," Sherwood-Randall told reporters. "It will be a small permanent presence on the ground and then a rotational presence that will be more substantial."
The United States has already deployed a Patriot battery in Poland on a rotational basis and Warsaw also expects to host SM-3 interceptors on its soil as part of a new U.S. missile defense plan that is due to be implemented in stages till 2020.
(Reporting by Steve Holland, writing by Gabriela Baczynska and Gareth Jones)