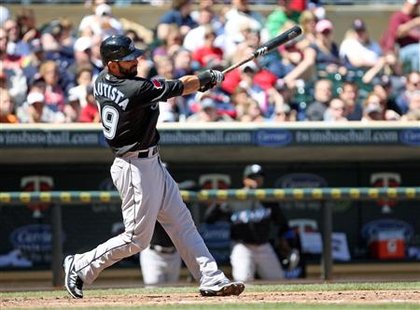 MINNESOTA (Reuters) - Toronto slugger Jose Bautista continued his red-hot form by hitting three home runs in the Blue Jays' 11-3 rout over the Minnesota Twins Sunday.
Bautista, who led the Major Leagues with 54 homers last season, hit blasts in the third, fourth and sixth innings on Sunday to improve his league-leading home run total this season to 16.
"It's ridiculous," Bautista told reporters after finishing with his first career three-homer game. "It feels like a dream right now and sometimes I can't even believe it myself.
"I keep seeing good pitches and I'm just executing right now, so I've got to keep working on doing that."
The Blue Jays (20-20) have won five successive games after completing a sweep of the Twins, led by Bautista's five homers during the three-game stretch.
After enjoying a breakout season last year, the 30-year-old Bautista is proving a more well-rounded hitter in 2011 and after Sunday's game he increased his batting average to .368, tying him for the American League lead.
(Writing by Jahmal Corner in Los Angeles; Editing by Greg Stutchbury)