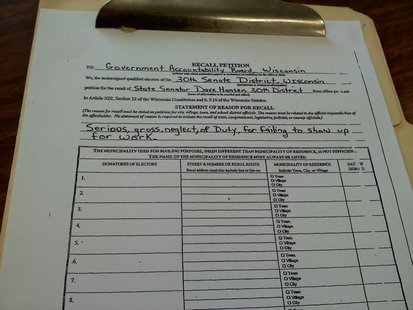 MADISON, Wis. (WTAQ) - The Government Accountability Board has verified more than enough required signatures to trigger a recall election for Senator Dave Hansen, but challenges remain.

GAB spokesman Reid Magney says staff eliminated nearly 1,800 signatures that did not have proper basic information.
"Is there a signature, is there a name, is there a complete address that includes the city, town or village," Magney says. "And is there a complete date."
GAB staff is recommended verified nearly 17,100 signatures. But Democrats have challenged more than 5,500 signatures.
"Then we will look at additional evidence to try and verify that," said Magney.
GAB staff is now reviewing those challenges, and will then chose which ones to recommend to the Board to make a final decision, which could come at the end of May.