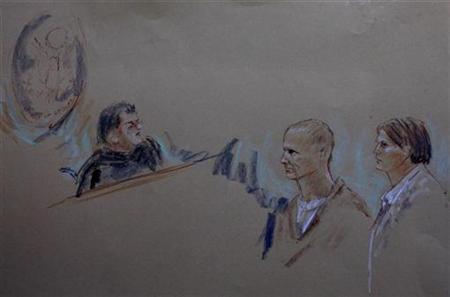 PHOENIX (Reuters) - A judge has denied a bid by defense lawyers to keep confidential information about Tucson shooting suspect Jared Loughner's behavior while in federal custody.
District Court Judge Larry Burns, in a ruling made public on Thursday, said there is no reason to prohibit the U.S. Bureau of Prisons from releasing to law enforcement and federal prosecutors psychological records and other information about the 22-year-old college dropout.
Loughner's lawyers said such a release would violate the federal government's own guidelines and Loughner's constitutional right to protection from self-incrimination and due process.
"The Court finds that neither the psychotherapist-patient privilege nor the Fifth and Sixth Amendments bar the disclosure of this information to the Government," Burns wrote in rejecting that argument.
Loughner is accused of opening fire outside a Tucson grocery store on January 8, killing six people and wounding 13 others, include U.S. Representative Gabrielle Giffords.
The Arizona congresswoman was shot through the head, and remains at a rehabilitation center in Houston.
Loughner has pleaded not guilty to 49 charges, including two counts of first degree murder of a federal employee, for the deaths of a judge and a Giffords aide.
Justice Department officials have not determined whether to seek the death penalty.
Loughner was returned to Arizona late last month from Missouri, where he was sent to undergo mental exams to see if he was competent to stand trial and aid in his defense.
A competency hearing is scheduled for May 25 in Tucson.
(Reporting by David Schwartz; Editing by Dan Whitcomb and Jerry Norton)