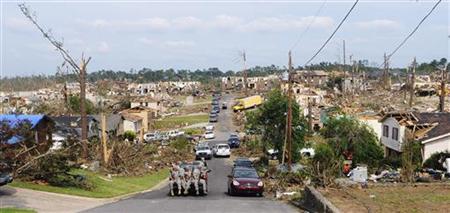 By Matthew Bigg
ATLANTA (Reuters) - Damage from last week's tornadoes and storms in Jefferson County, Alabama, which is awash in debt, is far worse than initially thought and will hit the county's sewer revenue, the county commission president said on Tuesday.
The county, saddled with a $3.2 billion sewer bond debt, is struggling to avoid declaring what would be the largest municipal bankruptcy in U.S. history.
The tornadoes and storms killed around 250 people in Alabama, including at least 19 in Jefferson County where 3,000 homes and 5,700 structures in total were "lost", Commission President David Carrington said.
In addition to its sewer bond debt, Jefferson County faces a general obligation fund debt and because of a court decision in March that ruled a tax for the county unconstitutional, it could run out of operating funds in July.
Last week Carrington said the storms would not directly impact the county because repairs would be funded by the Federal Emergency Management Agency.
On Tuesday, he revised that view in the light of fresh information.
The damage is "far worse than I was initially told. This loss will materially impact our net sewer revenues," Carrington said in an email.
"As it looks now, the county is going to take a material financial hit for the next 3-5 years while we rebuild," he said.
HIGHER COSTS
The new cost estimate on debris clean-up alone is $400 million and the county, like other storm-hit cities, may be responsible for 15 percent of the costs, though this could be waived by President Barack Obama, Carrington said.
In addition, one of the county's sewer treatment plants received "significant damage", Carrington said, though he gave no details on what impact this might have.
By law, funds to repay the county's sewer bond debt come from sewer revenues. Under normal circumstances, this helps to shield the debt from financial shocks but significant property damage could in theory reduce overall revenue.
Jefferson County is one of several U.S. municipalities facing debt trouble and bond markets watch it closely because of the size and protracted nature of its crisis. It ran up its sewer debt through auction and swap rate instruments it purchased to refinance an upgrade to its sewer system.
The county is also key to Alabama's economy, in part because its main city, Birmingham, is the largest in the state. Alabama Governor Robert Bentley is due to address the state later on Tuesday on the impact of the storms, the worst U.S. natural disaster since Hurricane Katrina in 2005.
(Editing by Tom Brown and Kenneth Barry)