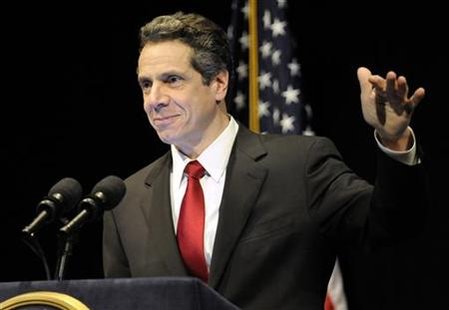 By Dan Wiessner
ALBANY, New York (Reuters) - New York Governor Andrew Cuomo and state legislative leaders hinted on Wednesday that they are open to compromise on closing a $10 billion shortfall and passing the budget.
New York's governors have some exceptional powers over the budget.
If the April 1 deadline is missed, Cuomo said he was prepared to insert his budget plan into temporary spending measures. This would force the Legislature to choose between enacting his bills or shutting down the state government.
However, the governor suggested that course might not be necessary after meeting with Assembly Speaker Sheldon Silver and Senate Majority Leader Dean Skelos.
Both chambers have accepted most of Cuomo's plan, but are focused on restoring some of his cuts to schools and healthcare.
"This is a very, very difficult budget, but I think it shows extraordinarily good will and leadership that we are where we are today," Cuomo told reporters, adding that "there is flexibility within the budget and among the parties."
Cuomo's $132.9 billion spending plan calls for deep cuts in education and Medicaid spending, as well as 9,800 layoffs if public employee unions do not concede $450 million in savings.
As he promised during his campaign last year, Cuomo's proposals close the budget gap without raising taxes.
SOME WIGGLE ROOM ON 'PORK'
Battle lines were drawn earlier this week when the Assembly proposed an income-tax surcharge on New Yorkers who earn more than $1 million a year. The tax would bring in $700 million and replace an existing surcharge on residents who earn more than $200,000 that expires at the end of the year. The revenue would be used to restore funding to schools and senior centers in New York City.
The Assembly speaker signaled that the tax, which is staunchly opposed by Cuomo and the Senate, is not crucial.
"I don't draw lines in the sand; everything is open, and everything is negotiable," Silver said. "There's still time to persuade our colleagues that makes sense," he said.
The Assembly also rejected a Cuomo proposal to cap medical malpractice damages for pain and suffering at $250,000.
The state Senate's spending plan, meanwhile, rejects Cuomo's proposals to create regional economic development councils and spend $500 million in competitive grants to reward schools that improve academic performance and administrative efficiencies.
The Senate would instead spend these funds on other economic initiatives and give schools an extra $260 million.
Cuomo said he is not willing to sacrifice the education grant programs, but he might bend on "member items," which are vote-getting grants doled out by lawmakers to their districts. None of the current proposals include member items, called "pork," which typically total about $200 million year.
Silver suggested the state's budget might even be enacted ahead of schedule.
"Maybe we'll even shock you by a few days," Silver said in a nod to the state's notoriously late budgets.
Last year's spending plan was passed in August
(Additional reporting and writing by Joan Gralla; Editing by Jan Paschal)