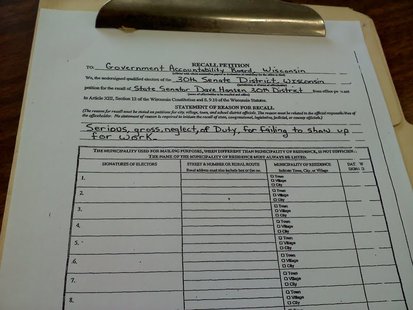 MADISON, WI (WTAQ) - Democrats are trying to again to drop recall elections against three of their state senators.
The State Democratic Party asked a judge Wednesday to nullify the Government Accountability Board's decision last week to schedule votes against Dave Hansen, Jim Holperin, and Bob Wirch.
The party said it found that numerous people were misled when they signed the petitions, claiming they told it would support schools or preserve Indian tribal rights. The board rejected thousands of petition signatures due to fraud – but it certified enough valid signatures to hold the elections.
State Democratic chairman Mike Tate said a higher authority should review what he called a "stunning conspiracy to defraud the voters."
Six Republican senators who face recalls have also asked the courts to cancel their elections. They said petition organizers filed improper paperwork when they started their drives.
For now, though, the recall primaries against the Republican senators are set for July 12th with the general elections on August 9th. The votes against the Democrats would be held a week later.