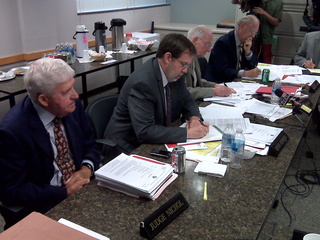 MADISON, WI (WTAQ) - The Government Accountability Board has approved recall elections for the last three out of nine state Senators.

The GAB heard from both Republican and Democratic lawyers at their meeting that took most of the day on thousands of challenges concerning fraud, misrepresentation and forgery on behalf petitions filed against three Democrats.

The board verified enough signatures on petitions to move forward but did reject thousands of other signatures. The GAB certified recall elections against Green Bay Senator Dave Hansen, Jim Holperin of Conover and Robert Wirch of Pleasant Prairie.

The board was granted an extension on Friday to finish the work on the three Democrats. GAB staff say the challenges to Democratic recall petitions involved more in depth work because of the magnitude of the challenges. A request to push back the election dates were denied at Friday's court hearing. The goal was to have them all on the same day.

Pending a judge's approval, Republican challengers would face off in primary elections on July 19th, with a general election against Democrats on August 16th.

The decision could be appealed.