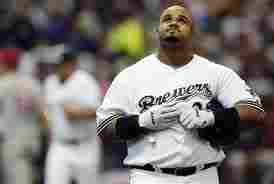 PHOENIX (WSAU-TSN) Prince Fielder showed off his MVP credentials with a powerful All-Stat Game performance, giving the National League back-to-back wins at the All-Star Game for the first time since the mid-1990s.
Fielder hit the go-ahead three-run homer in the fourth inning, helping the NL to a 5-1 triumph over the American League at Chase Field.
One year after breaking a 13-game winless streak, the NL has won back-to-back All-Star Games for the first time since taking three in a row from 1994-96 and will have home-field advantage for the World Series this postseason.
Andre Ethier and Pablo Sandoval knocked in the other runs for the NL, which overcame an early deficit when Boston's Adrian Gonzalez homered off Philadelphia's Cliff Lee in the top of the fourth.
The enjoyment of some of the All-Stars was evident, especially San Diego's Heath Bell, who raced in from the bullpen in the eighth inning and went into a slide before taking the mound in relief of Atlanta's Jonny Venters.
The Brewers are off on Wednesday, and resume play Thursday night. They start the second half of the season in a first-place tie with the Cardinals.