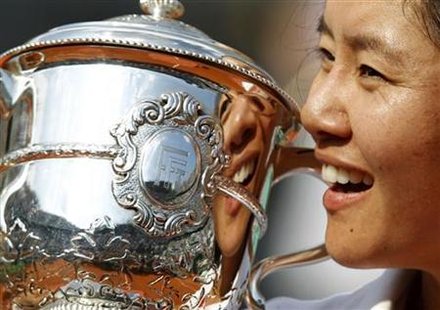 By Ben Blanchard
BEIJING (Reuters) - China's French Open champion Li Na attempted on Tuesday to play down her much publicized rift with the country's rigid state-run sports system.
The world number four squandered two match points in a second-round defeat by German wildcard Sabine Lisicki at Wimbledon two weeks ago, but is still a sporting heroine in China after winning this year's French Open.
"I don't think 29 years old is too old to make an impact," she told reporters. "I am not old and I am still qualified to fight on the court."
For many young people in China, Li is a role model, partly because of her broad smile and off-court wit, but also due to her air of independence in a country where most elite athletes' careers are usually nurtured -- and largely supervised -- by the state.
Li, affectionately known as "Big Sister Na" and "Golden Flower" in China, was honored this week in her home province of Hubei with a 600,000 yuan ($92,838) cash reward from the government for her win in France.
She even took time out to publicly thank the government, something she has not done often as a reluctant standard-bearer for Chinese tennis.
"I truly felt that my success belongs not to myself but to the country. Without the support from the government, the society and all my coaches, I would not have done this," Xinhua news agency quoted Li as saying upon getting her reward.
Li, identified as a potential badminton talent as a child, was steered into tennis before her teenage years, but had to be coaxed back into the game in 2004 after walking away to study media at university.
After numerous clashes with local media and Chinese tennis authorities over training routines and pay, in 2009 the strong-willed Li was allowed along with four other top women to manage her own career and keep a greater share of her winnings.
Li is among a handful of leading women players whose success in an individual game inevitably conflicted with their country's Soviet-style sports system.
Shortly after returning to training from two years out of the game, she won her country's first WTA tour title on home soil in Guangzhou in 2004 and two years later was in the Wimbledon quarter-finals.
Despite her public clashes over China's state-run sports system, Li said she felt grateful it had given her a place to start.
"I was able to take advantage of both systems," she said.
"I grew up under the traditional Chinese sports system. After I some achievements in international competitions ... I got to have my own crew," Li added.
"A lot of people said I have 'flown away', but I don't like that wording. I think I have simply been allowed to hire my own team to take care of me."
($1 = 6.463 yuan)
(Additional reporting by Haze Fan, editing by Ed Osmond)