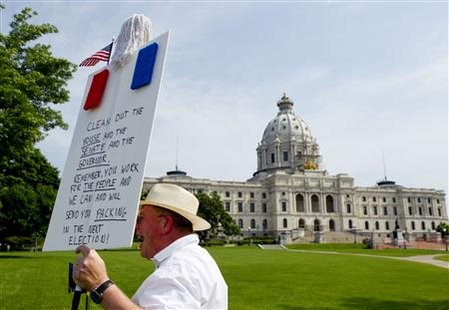 By David Bailey
MINNEAPOLIS (Reuters) - Minnesota's Democratic Governor Mark Dayton and Republican legislative leaders plan to meet on Tuesday afternoon for the first time since a budget impasse sparked a state government shutdown five days ago.
Dayton and the leaders of the Republican-controlled legislature failed to reach a deal to close a $5 billion two-year budget deficit by the start of the new fiscal year on July 1, leading to the first government shutdown since 2005.
The meeting is planned for the governor's office. Dayton met daily with Republican House Speaker Kurt Zellers and Republican Senate Majority Leader Amy Koch in the governor's office ahead of the shutdown.
Dayton has said his last proposed budget was $35.7 billion and the gap between the sides stood at $1.4 billion. He refused Republican requests that he call a special session and allow lawmakers to approve temporary spending to avert a shutdown.
The shutdown, far wider in scope than a nine-day partial closing six years ago, has its origins in the November election. Minnesota voters elected the state's first Democratic governor in 20 years and Republican majorities in the House and Senate that were not big enough to override his vetoes.
Dayton had proposed income tax increases on the wealthiest of state residents and an expansion in overall spending from the prior two-year budget. Republican leaders proposed to halt spending increases.
Prison staffing, state police patrols and staffing at nursing and veterans homes were among services found critical and allowed to continue during the shutdown. Staffing at numerous other departments will be cut to the bare bones.
State parks and historical sites, highway rest areas and numerous state offices were closed ahead of the Fourth of July holiday weekend and more than 20,000 of Minnesota's 36,000 state employees have been furloughed.
Dozens of road construction projects were suspended for the shutdown as was the state lottery.
A Ramsey County judge has allowed the Minnesota Zoo to reopen using revenue generated from its own operations, but denied appeals by horse racing tracks to reopen because the state racing commission budget has not been approved.
Dayton has asked Ramsey County Chief Judge Kathleen Gearin to include as critical functions state special education aid, chemical dependency and mental health services and services for victims of domestic violence, sexual assault and other crimes.
The governor also asked that other services be included for spending as critical.
(Additional reporting by Todd Melby in Minneapolis and Karen Pierog in Chicago; Editing by Jerry Norton)