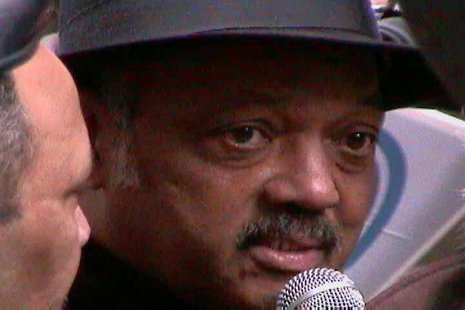 MADISON, Wis. (WTAQ) - The Reverend Jesse Jackson and former U.S. Senator Russ Feingold excited the crowds at the State Capitol Friday who are protesting the governor's union restrictions.
Jackson paid an unannounced visit to Madison, where he told protestors they were fighting for a just cause – and Wisconsin workers should be allowed at the bargaining table to help find a solution to the state's budget problems.
Republican Governor Scott Walker cited the state's massive deficits in saying he needs to force most public union employees to pay more for benefits and give up most of their bargaining rights.
Jackson compared this week's protests to the anti-government battles in Egypt and Tunisia. And he led the crowd in singing "We Shall Overcome."
Feingold told protestors the Walker plan is, "an outrageous assault on working people." He told them to keep the pressure on to try and defeat the bill – and then to try and beat Republicans in the 2012 elections. Some of the protestors chanted "Feingold for Governor" as he made his way through the crowds.

Senate Democrats were reported to be getting together in Illinois today to discuss their next moves. GOP leader Scott Fitzgerald says his caucus is holding firm on the bill – and national figures will not sway them.
Meanwhile, a union leader says a protest is planned Saturday in Hudson over Interstate 94 on the Carmichael Road bridge a couple miles from the Minnesota border. Organizers expect about 200 workers to show up.
Also, the Madison Capital Times said the state GOP is using the protests to raise money for Republican candidates. An online request said donations would, "provide us the tools needed to combat the unions' strong-armed tactics."