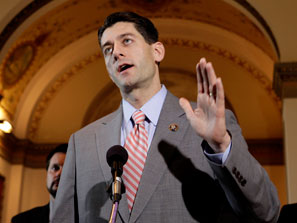 WASHINGTON D.C. (WTAQ) - Janesville House Republican Paul Ryan is among those who sleep in their offices when they're in Washington.
But now, the Citizens for Responsibility and Ethics want officials to put a halt to it.
The group wants to find out if the office-sleepers are getting a fringe benefit they should pay taxes for – and if they're violating House rules against the personal use of public resources.
Ryan, the House Budget Committee chairman, shrugs off the complaint. He says frugal lawmakers have slept at the office for decades. And Ryan says it helps him get the job done, saying he works from 6 a.m. until midnight.
The citizens' group says at least 30 lawmakers, all men, sleep on cots and couches in their congressional offices. And director Melanie Sloan says up to 50 could be doing it now, after a wave of conservative freshmen were elected last fall.
Some lawmakers consider it a badge of honor, a message to voters that they don't consider Washington their home. But Sloan says House office buildings are not "frat houses" – and if they didn't want to find housing in D.C., "They shouldn't have run for Congress in the first place."