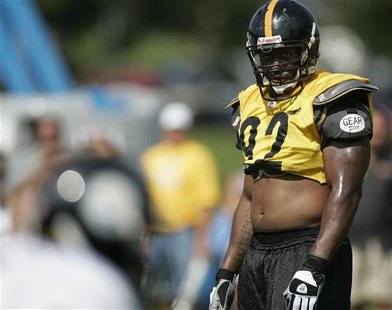 (Reuters) - Pittsburgh Steelers linebacker James Harrison's appeal of a one-game suspension for a dangerous helmet-to-helmet hit on Cleveland Browns quarterback Colt McCoy has been denied, the league said on Friday.
Harrison will miss Monday's key game between the Steelers and the NFC West Division-leading San Francisco 49ers because of the suspension.
On-field appeals official Ted Cottrell upheld NFL Executive Vice President Ray Anderson's suspension of Harrison for the hit in the Steelers' 14-3 victory over the Browns last week, the league said in a statement.
McCoy suffered a concussion on the play and will likely be out of the starting line-up Sunday when the Browns visit the Arizona Cardinals.
Harrison was penalized for roughing the passer, but the NFL added a one-game ban because of his previous indiscretions.
He was fined four times between 2009 and 2010 for illegal hits on quarterbacks. The four-time Pro Bowler was also fined on two other occasions for unnecessary roughness.
The NFL has recently introduced new rules to protect quarterbacks from late hits.
(Reporting By Gene Cherry in Salvo North Carolina)