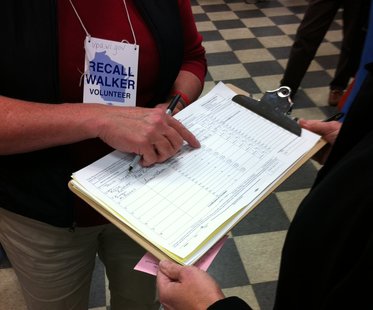 MADISON, WI (WTAQ) - Governor Scott Walker's campaign says it should be the state's job – and not theirs – to find false and duplicating recall signatures.
That's one of the arguments in a lawsuit filed Thursday by the Walker camp and state GOP director Stephan Thompson.
By counting the same signature twice, Thompson said the Government Accountability Board is giving double the weight to that person, than the one who chooses not to sign a petition.
But Board Director Kevin Kennedy says his people have using the same process for counting recall signatures since the 1980's. He says the law presumes that signatures are valid if they're dated and have a Wisconsin address – and he said a more detailed review would require a change in the law and, "much greater resources than are available or practical."
Recall opponents have been upset ever since the Board said this week it would allow signatures named Mickey Mouse or Adolf Hitler, as long as they have proper dates and addresses. And if challengers can prove the signatures are not valid, the board will throw them out then.
State Democratic spokesman Graeme Zielinski says the lawsuit will not end his party's effort to recall the Republican Walker. He said the Democrats have a system to review the signatures – and eliminate false and duplicated ones – before they're submitted to the state.
Thursday, the group United Wisconsin said it had over 507,000 Walker recall signatures. The deadline for filing the petitions is January 17th.