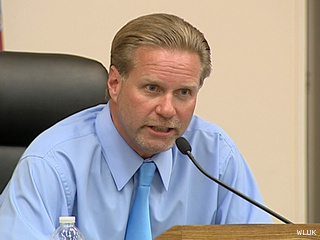 SHEBOYGAN, WI (WTAQ) - Sheboygan's embattled mayor is planning a news conference at 4:45 p.m. Tuesday.
Bob Ryan tells WHBL Radio he'll talk about the controversy that surrounds his recent drinking episode, and the city's issues.
One alderman has started a recall effort against the mayor, and the City Council will be asked Wednesday night to hire former U.S. Attorney Steve Biskupic as a special prosecutor for the city in a pair of formal complaints filed against Ryan.
The first-term mayor admits he's an alcoholic. He's had three major drinking-related episodes during his two-and-a-half year term – including one last month in which he went on a three-day binge in nearby Elkhart Lake.
The mayor's secretary told the Sheboygan Press that Ryan still expects to preside over Wednesday night's Council meeting.
Up to now, he has refused to resign. The paper said Ryan is apparently trying to get his supporters together for a rally similar to one he held two years ago.
That was when he was caught on YouTube making sexual comments in a bar about his sister-in-law.
Ryan was also facing sexual harassment allegations at the time from former city human resources director Angela Payne. Her complaint to the state was recently settled.