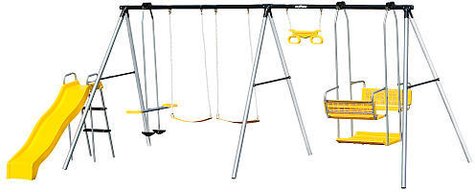 MADISON (WSAU) - A Madison company is recalling about 5500 swing sets.
Pacific Cycle says the Play-Safe Dartmouth Swing Set has seats that can premature crack or split, and cause riders to fall. Pacific Cycle said it received five reports of seats breaking – and it caused a few minor scrapes and bruises. The swing sets were sold only at Toys-R-Us stores throughout the country from January through May. They were manufactured in China.
Officials said the sets have six metal legs with two swings, a two-person glider, rings, and a lawn swing. More information is available by finding Pacific Cycle online, or by calling the following phone number from 8-to-5 weekdays – 1-877-564-2261.