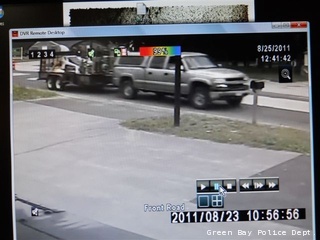 GREEN BAY, WI (WTAQ) - Police in Green Bay are investigating reports of people throwing construction nails at pedestrians from a pickup truck.
Authorities say the type of nails thrown are usually held together by thin wires for loading into a pneumatic nail gun. Before being thrown, they are taken apart and disconnected.
Police are investigating six separate incidents, primarily on the city's west side. The most recent incident was on August 23.
No injuries have been reported.
Officers also released a photo of the suspected truck.
Anyone with information is asked to call Green Bay police at (920) 448-3208 or Crime Stoppers at (920) 432-7867 or www.432stop.com .