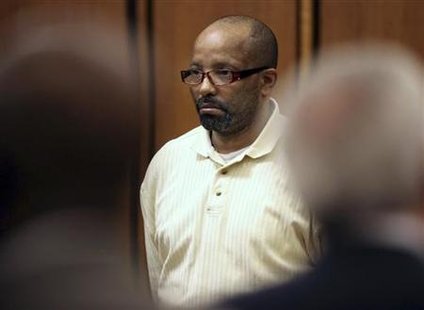 By Kim Palmer
CLEVELAND (Reuters) - Ohio serial killer Anthony Sowell, convicted of killing 11 women, apologized on Monday for his crimes before a courtroom packed with family members of his victims, saying his actions were "not typical of me".
"I'm sorry. It might not sound like much, but it is all I can give," Sowell said during the penalty phase of his capital murder trial. "I'm sorry from the bottom of my heart. This is not typical of me. I can't explain it."
Sowell, 51, was convicted last month of the murder of 11 women whose decomposing bodies were found in and around his Cleveland home in 2009. The jury that convicted him must now decide whether to impose the death penalty.
Sowell was on the stand for the first and only time on Monday for unsworn, question-and-answer testimony with his attorney, John Parker. Such testimony is sometimes given by a defendant deemed not able to give a sworn statement due to possible mental deficiencies.
Parker asked Sowell about his reported sexual and physical abuse. "I was whipped and beaten," he told Parker. But when asked about the specifics of his sexual abuse by a distant relative, Sowell said: "I don't want to talk about that."
Sowell began to cry as Parker asked him if he had ever hugged or shown any affection toward his sister, Tressa Garrison, who he professed to love. "That didn't go down," he said.
Sowell regained composure as he told Parker that he began to hear voices after a heart attack that left him with a pacemaker and unable to work or play chess.
"And what name did you give the voice your head?" Parker asked. "I didn't give it a name. It had a name - Arnie."
Earlier in the day a social worker and mitigation expert, Lori James-Townes, testified to reports of multiple incidents of sexual and physical abuse and neglect throughout the lives of practically every member of Sowell's family. James-Townes said that child abuse is the biggest factor for adult violence in men.
The defense rested their case on Monday. The jury was expected to begin deliberations this week.
(Writing and reporting by Kim Palmer; Editing by Mary Wisniewski and Cynthia Johnston)