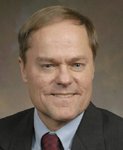 GREEN BAY, WI (WTAQ) - As Tuesday's state Senate recall elections get closer, some Democratic challengers portray the GOP incumbents as more extreme than they once were.
Democrat Sandy Pasch made the claim this week against Senate Finance co-chair Alberta Darling.
Now, former Brown County Executive Nancy Nusbaum accuses her election opponent, Allouez Senate Republican Rob Cowles, of being less moderate.
She said Cowles, "totally knuckled under" to Governor Scott Walker on the new state budget and the law that limits public union bargaining.
Cowles has spent over two dozen years in the Legislature, and Nusbaum said he used to be a moderate voice that people could agree with. But Cowles says he's the same person he's always been – fiscally conservative with a record of working for bi-partisan compromises on things like renewable energy.
Six GOP senators will try to keep their jobs on Tuesday, and two Democratic incumbents will try to do the same on August 16th.
The recall efforts were spurred by the tensions over the collective bargaining law. But they've become full-fledged battles over issues like taxes, education, and the environment.
Democrats are trying to use the occasion to regain control of the Senate and stop Walker's conservative agenda. Democrats need to win 5 of their 8 remaining contests to take over the Senate, while Republicans keep running the Assembly.