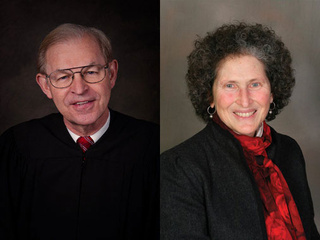 MADISON, Wis. (WTAQ) - Wisconsin county clerks were told Monday to finish their recounts for the State Supreme Court election by May 9th – and to work weekends if necessary to get it done.
Nearly all of the 72 county clerks and their employees took part in a telephone conference call with the Government Accountability Board Monday. They had numerous questions about how the recount will work. It begins Wednesday in all courthouses around the state.
Court challenger JoAnne Kloppenburg asked for the recount, after incumbent Justice David Prosser won the official canvass by 7,316 votes out of 1.5 million cast on April 5th.
All sessions will be open to the public, and the clerks were told that representatives from both campaigns will be in every county.
Attorney Mike Haas said those representatives can look at the ballots, but they cannot touch them or write on them. Any ballots that raise objections will be reviewed by the county's canvassing board, in consultation with state officials if necessary.
If it looks like the tallies won't be done by May 9th, board director Kevin Kennedy said he would ask a judge for an extension.
Kloppenburg questioned the validity of the original count in several counties, especially Waukesha County where the clerk forgot to include Brookfield in her Election Night tally. Prosser said the recount's not necessary, because no candidate has overcome his 7,300 vote margin of victory.
This is believed to be only the third statewide recount in history. The last one in 1989 involved a referendum. The only other one involving candidates was in 1858.