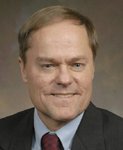 MADISON, Wis. (WTAQ) - State Democrats say petitions will be submitted Thursday to order a recall election against Senate Republican Rob Cowles of Green Bay.

State Democratic spokesman Graeme Zielinski says more than enough signatures have been gathered. Just under 16,000 valid signatures are needed to force a recall election against Cowles. He would be the 6th GOP senator in which recall petitions were filed against – along with three Democrats.

They're all on the carpet for their actions connected with the bill to limit public union bargaining powers.