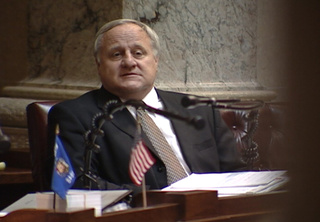 GREEN BAY, Wis. (WTAQ) - The first recall petitions were filed Thursday morning against Democratic Wisconsin senators.
Petitioners gave thousands of signatures to the state Government Accountability Board to order recall elections against Dave Hansen of Green Bay, Jim Holperin of Conover, and Bob Wirch of Pleasant Prairie.
The Hansen group was the first to arrive at the board's Madison office. Organizers for all three attempts said they got 5,000 to 6,000 more signatures than the minimum required to hold recall votes.
The board now has 31 days to determine if there are enough valid signatures to order the elections. But officials say they'll seek an extension to finish all the paperwork – and to schedule all the elections on the same day.
Meanwhile, a major announcement was planned Thursday by a group that's trying to recall Senate Finance chairwoman Alberta Darling of River Hills.
Petitions have already been filed for elections to recall 4 Republican senators – Dan Kapanke, Randy Hopper, Sheila Harsdorf, and Luther Olsen.
State Democrats plan to spend hundreds of thousands of dollars on those races, to try and win back the majority in the Senate.
Democrats need to gain 3 seats in this year's recall votes to break the GOP's total control of the legislative and executive branches which voters gave them last November.
The Republicans are targeted for voting in favor of the limits on public union bargaining. The Democrats are targeted for leaving Madison for 3 weeks to try and stop a vote on those limits.