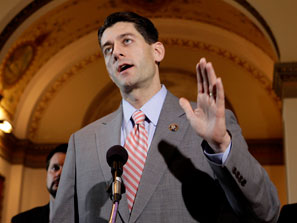 WAUKESHA COUNTY, Wis. (WTAQ) - House Budget Chairman Paul Ryan is starting to find out how the folks back home feel about his plan to slash the federal deficit.
The Janesville Republican held the first of 19 listening sessions throughout his district Monday.
At North Prairie in Waukesha County, about 170 people packed the village hall. Ryan got a lot of support for his plan to cut $6 trillion over a 10-year period by freezing domestic spending at 2008 levels, and putting big dents into Medicare and Medicaid.
About a dozen people got to ask questions – and a few got into a debate over President Obama and his 2012 re-election chances. One woman got loud applause when she said Ryan should run.
Some people said Ryan's plan needs higher taxes on the rich in order to balance out. One was concerned about the idea of ending individual Medicare for those 54 and younger and giving them subsidies for private health coverage when they get older.
Higher costs were a big concern, and a Waukesha area woman said it might deny coverage to some. But Ryan said everyone would be covered. He said the average subsidy would be $15,000, and higher-income people would pay more.
The House passed Ryan's plan last week with no Democrats voting yes – and it's not expected to get support in the Democratic Senate.