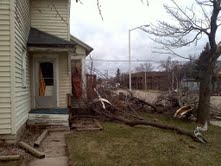 KAUKAUNA, Wis. (WTAQ) - The Mayor of Kaukauna has issued an emergency declaration after the city was severely damaged by a possible tornado Sunday.
At a press conference late Monday morning, Police Chief John Manion says the Mayor Gene Rosin had issued that declaration earlier that morning.
Manion says officials estimate about 157 homes were damaged on the city's southwest side from Sunday's storms.
"The sounds that was heard, that I was hearing, what I thought was the sound of a train, usually indicative of a tornado," Manion says. "I don't know specifically if it was a tornado, but I think it has the characteristics of one."
No injuries have been reported thus far. Manion says authorities have been going door-to-door checking on residents and homes affected by the storm to check on them.
Power has been restored to about 95 percent of the city, according to Manion.
Authorities are urging people to stay away from that part of Kaukauna, as crews continue to clear the areas and clean-up the damage.
Officials ask anyone who has damage to their homes or property to call the Outagamie County Damage Hotline at (920) 832-5464 to report it.