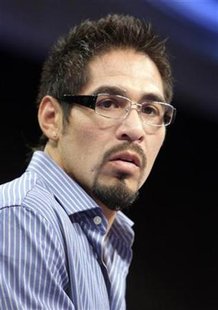 By Mark Lamport-Stokes
GRAPEVINE, Texas (Reuters) - Apologies were the order of the day for Antonio Margarito's camp Thursday as they sought to limit the damage over a distasteful video ahead of Saturday's super welterweight bout against Manny Pacquiao.
Margarito, fellow fighter Brandon Rios and trainer Robert Garcia each apologised for an internet video in which they appeared to mock the Parkinson's disease suffered by Pacquiao's trainer Freddie Roach.
Garcia had issued a public apology the previous day during a pre-fight news conference but he followed up with a personal apology to Roach by phone Thursday morning.
"I accept his apology and let's just move on with the fight," Roach told reporters on the eve of Friday's weigh-in. "I will shake his hand, yes.
"I think they (the Margarito camp) realize what they did was too much, it went overboard a little bit. He (Garcia) said I was throwing (verbal) stuff at them and they wanted to throw something back and they went too far."
The video, posted on several internet sites earlier this week, showed Mexican Margarito, Garcia and Rios apparently making fun of Roach's Parkinson's disease symptoms.
Margarito aped Roach's involuntary twitches by shaking his arms and Rios stuttered the words "Manny Pacquiao" before Garcia said to Rios: "Hey, there's Freddie Roach".
On Wednesday, a livid Roach described the actions as showing the "true colors" of the Margarito camp but added that he would play the whole affair down to keep Pacquiao focused on Saturday's fight.
"I don't want Manny to be angry about it," Roach said Thursday. "He must just stay calm. I want to keep Manny right where he is. He's in a good place.
STAYING FOCUSED
"I told Manny don't worry about it, just stay focused on what you have to do."
Three-times world champion Margarito (38-6, 27 KOs) made an unscheduled appearance Thursday at a news conference for Saturday's undercard to issue his own apology to Roach.
"I apologize for what happened," the Mexican said. "Freddie Roach, if he will accept my apologies, and everyone with that disease ... I want to tell you I would never, never make fun of anyone with that.
"I was training in the gym and this guy with a video camera came up to me and told me Freddie Roach said I was going to get knocked out. I just shook my hands and said: 'Wooh, I am really scared now.' I was not making fun of Freddie."
Rios, who is scheduled to fight a 10-round lightweight bout on Saturday's undercard at Cowboys Stadium, gave his apology shortly before Margarito.
"I got one thing I want to get off my chest," he said. "There is something between the two camps and I take full responsibility. It was just in the heat of the moment.
"They were calling our camp murderers and stuff like that. All I can say is I'm sorry. Let's move forward."
The war of words between Garcia and Roach over the video had dominated the build-up to Saturday's fight between seven-times world champion Pacquiao and Margarito.
With multiple apologies given, and now accepted by Roach, the scheduled 12-round bout can once again assume center stage.
(Editing by Steve Ginsburg)